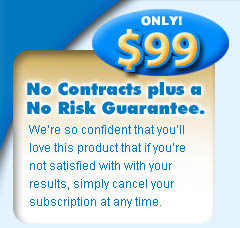 When you compare the cost per lead generated by traditional marketing efforts and compare them to typical search engine placement, the results can be shocking. Most companies don't even know what their return on advertising dollars actually is. Look at this chart we created from an Actual Customer to see the difference.

Advertising Comparison

Construction Company X

Present Advertising Program
(Per Month)

Total Monthly
Cost

Leads Generated

Cost Per Lead
Yellow pages
$5,000.00
25
$200.00
Direct Mail -
$1,800.00
20
$90.00
Contractor Internet Referral Service
$1,200.00
40
$30
Door Hangers
$800.00
15
$53.35
Classified Service Directory
$225.00
10
$22.50
Telemarketing
$1,000.00
25
$40.00
Monthly Totals
$10,025
135
$72.64
Note: This is not taking into account the man hours and headache of arranging and launching these advertising tools.
Premium Web Placement service
$126.00
135
0.93 Per Lead!

Click here to learn more and choose a program
that's right for you!

©2003 WebTrafficWorks.com, All rights reserved. Click here for legal info.
Designed by FDI Internet